Ka Shui Industry 4.0
Ka Shui Group has strived to apply "Industry 4.0" elements to our corporate development, including production equipment upgrade and staff training, thanks to the guidance of the German experts in "Industry 4.0" and the Hong Kong Productivity Council ("HKPC"). We manage our production successfully through real-time data and apply "Industry 4.0" standards to our daily production. On 11th October 2018, Ka Shui Group, being the first enterprise in Hong Kong to obtain this recognition, was officially awarded the Industry 4.0 "1i Maturity Level Recognition" Certificate by HKPC and Fraunhofer IPT. We will continue towards "Industry 4.0" to further enhance our operational efficiency in response to our customers' needs.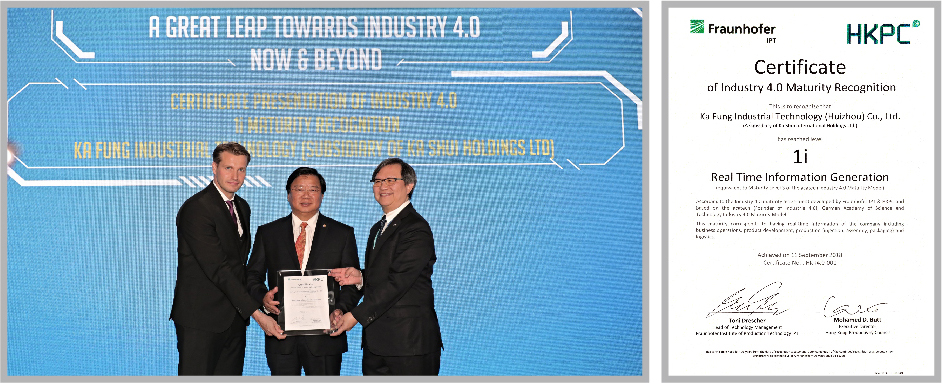 Providing "Industry 4.0" Related Professional Service to Industry
In order to better adapt to "Industry 4.0", Ka Shui has utilised a QR code track and trace solution called eDTrack in production lines. Through eDTrack Solution, every single product can be traced by its unique QR code, and the production process of each product can be showed transparently in real time. We are always eager to share our experiences in "Industry 4.0" implementation on software or hardware system installation. We also provide "Industry 4.0" related professional services to the industries, to promote smart factory management with industry and enhance operation efficiency.