Company News
Ka Shui was invited to attend the 7th International Conference on Magnesium (ICM7)
ARTICLE OF 2020.11.23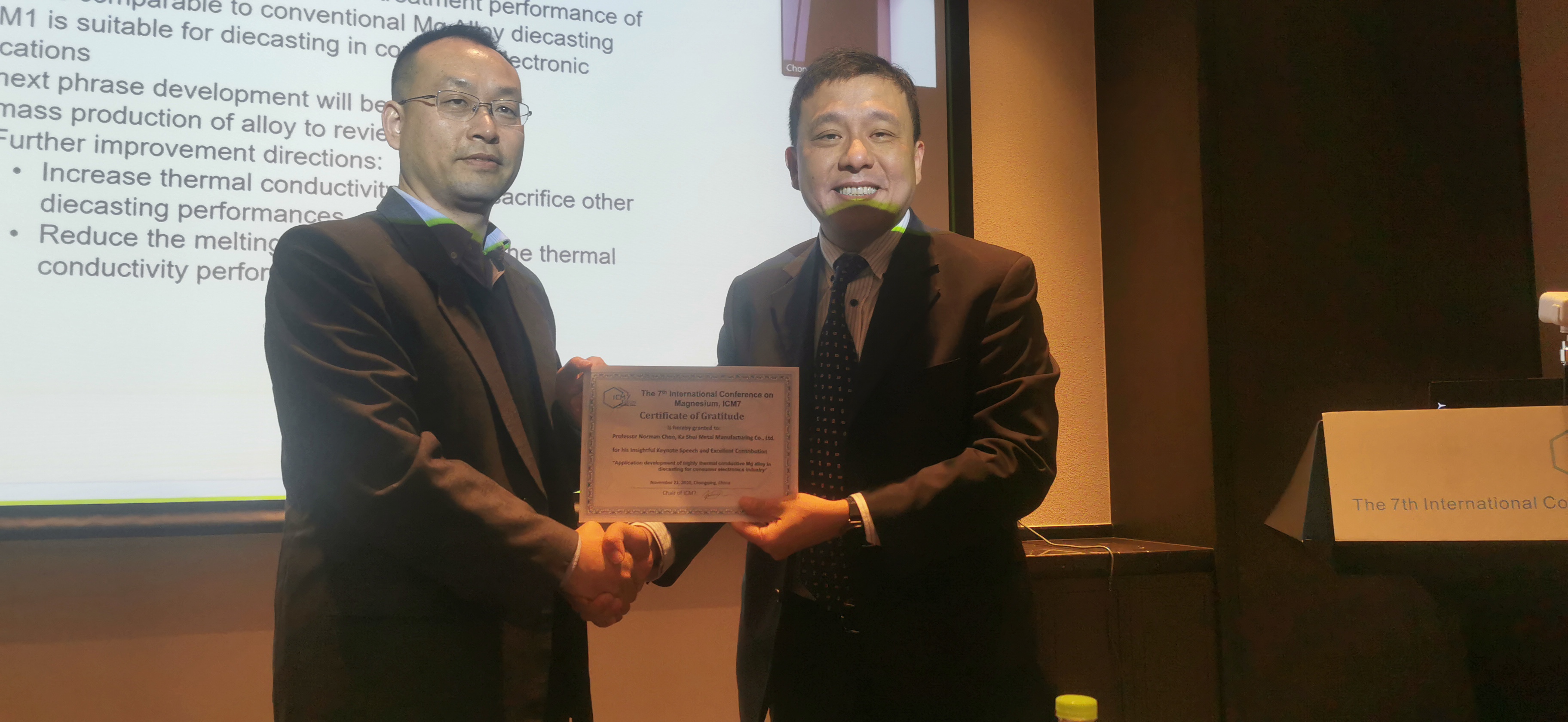 On 19-22 Nov, 2020, the 7th International Conference on Magnesium (ICM7) was successfully held in Shenyang, the PRC. This conference was hosted by Chinese Materials Research Society (C-MRS) and Journal of Magnesium and Alloy, and was co-organized by International Magnesium Society (IMS), Institute of Metal Research, Chinese Academy of Sciences, Chongqing University and Magnesium Committee, Chinese Materials Research Society etc. The conference was held through both online and offline, and for those offline meetings, they were held in two locations, Shenyang and Chongqing. More than 1,200 participants from 15 countries, including China, the United States, Germany, the United Kingdom, Canada, Singapore, Japan, South Korea, Australia and other countries, attended the meeting, and more than 120,000 persons listened or viewed the presentations through online or offline. The conference has arranged 13 report presentations, and set up 6 parallel sessions including cast alloys, wrought alloys, processing, performance & application, modeling & simulation, corrosion & protection, and also 5 forums on lightweight, advanced technologies, standardization, material journal and industry-academy cooperation.
The conference focused on the frontier research of magnesium alloy which has covered number of fields related to magnesium alloy research and application. It also provided a platform for various information exchange and discussions on magnesium alloy smelting and casting, phase transformation, simulation calculation, alloy design, metal forming, production application, corrosion and protection, application of magnesium and magnesium alloy and environmental protection.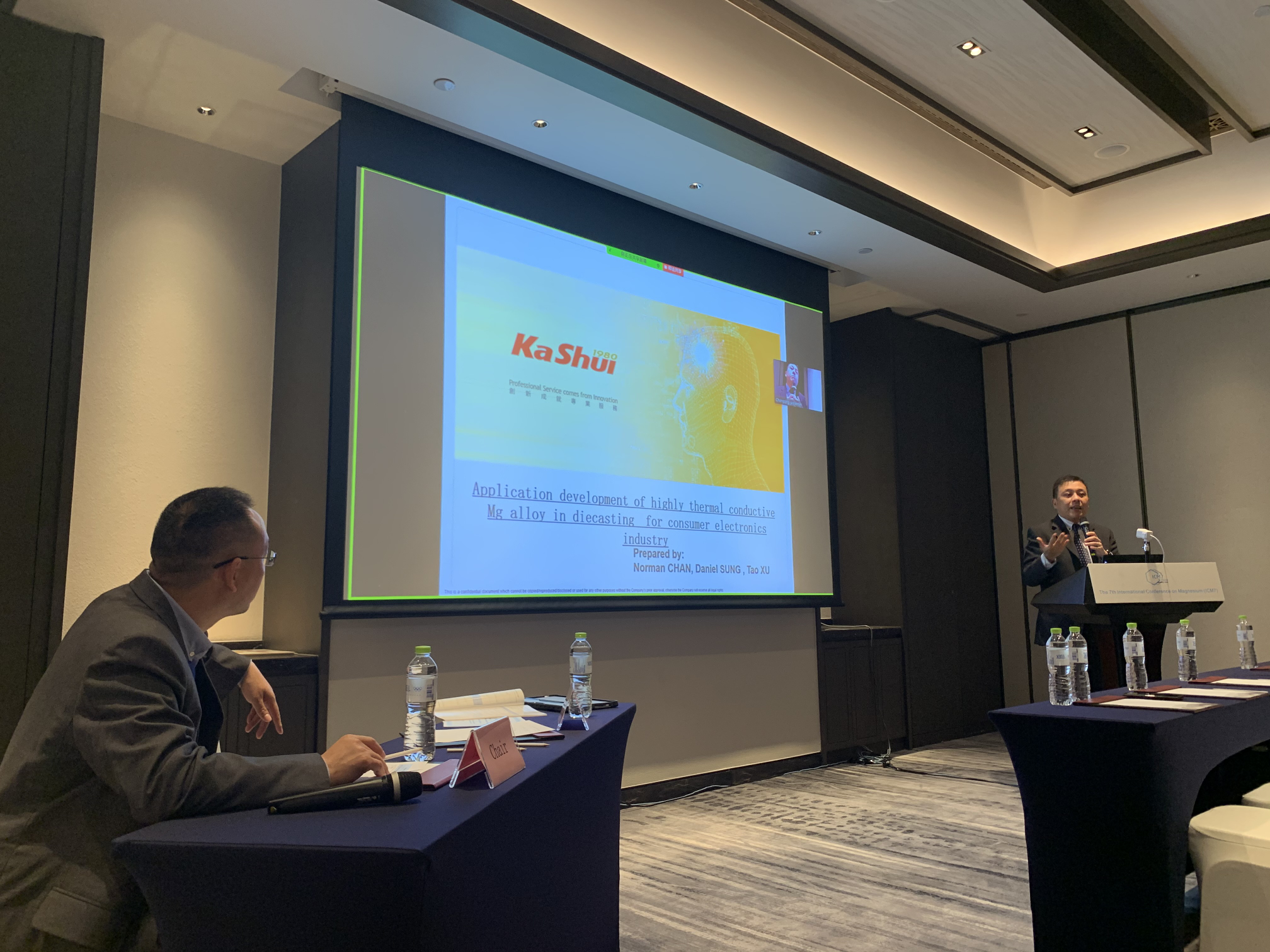 More than a guest of IMC7, it was the first time for Ka Shui to be a guest speaker in one of the parallel sessions named "Performance and Application". The theme of the speech was "Application Development of High Thermal Conductivity Magnesium Alloy in Die Casting for Consumer Electronics Industry". At present, 3C products, communications, automotive electronics and other fields are facing increasing demand on lightweight. At the same time, many parts have higher level standards on thermal conductivity of materials so as to ensure and improve the service life and working stability of products. The density of magnesium is 1.74g/cm3, which is about 2/3 of aluminum and 1/4 of iron. The thermal conductivity of magnesium is 156W/(m·k) at room temperature, which is inferior than copper and aluminum, and the specific thermal conductivity (i.e. the thermal conductivity per unit mass) is equivalent to that of aluminum. However, the mechanical properties of magnesium are not strong enough to be directly used as structural materials and magnesium alloy is commonly used instead. Although the mechanical properties of magnesium alloys are significantly improved, the thermal conductivity is reduced drastically at the same time. For example, the yield strength of AZ91D, the cast magnesium alloy, is about 150MPa (magnesium is about 21MPa), but the thermal conductivity is only 51.2 W/(m·k)(only about 1/3 of magnesium). With the rapid development of electronics, computers, 5G communications, aerospace and LED lighting and other industries, the requirements for heat dissipation materials not only need high thermal conductivity performance, but also concern about heat resistance, corrosion resistance and cost. Thus magnesium alloy can be widely used in the field of thermal conductivity. Die casting has many features of high production efficiency, high dimensional accuracy, excellent mechanical properties, and can form thin-walled deep cavity castings with complex shape and clear contour. It is suitable for the integrated design and integrated molding of heat conduction and heat dissipation devices. With the above advantages, there is an urgent need to develop some international leading new materials and technologies with independent intellectual property of high thermal conductivity magnesium alloy in order to achieve the new die-casting magnesium alloy materials with thermal conductivity above 100W/(m·k).
Currently, the High Thermal Conductivity and Heat Dissipation Rare-earth Magnesium Alloy (KSHTCM-1) developed by Ka Shui has good conductivity, mechanical property and corrosion resistance that can fulfill the parts with higher required standard on thermal conductivity. Ka Shui has successfully applied this kind of high thermal conductivity and heat dissipation rare-earth magnesium alloy on the bottom case of notebook. In order to improve the heat dissipation efficiency, we have tried to use KSHTCM-1 for the notebook case instead of AZ91D, because the mold of part can be well filled because of fluidity of the material, which leads the passivation and secondary processes can better fulfill customer's requirements.
The 7th International Conference on Magnesium (ICM7) has successfully held and effectively promoted the cooperation among enterprises, universities and research institutions and provided an international exchange and cooperation platform for the development and application of magnesium and magnesium alloy science and technology. As a leading enterprise in magnesium alloy die casting industry, Ka Shui proactively works with many universities and scientific research institutions to conduct research on innovative projects, and strives to promote magnesium alloy new materials application innovation as well as to build a leading platform for the light alloy industry.