Company News
Ka Shui Proactively Participated in Drafting the Industry Standards of Plastic and Die-casting Industries
ARTICLE OF 2020.09.21
Plastic products including food containers, personal care products and various medical supplies have always been advanced that they are anti-bacterial, however, such function is mainly attained by adding biocides which will bring us side effects including environmental pollution, damage to ecological balance and also possibly superbugs that is harmful to our health. Therefore, we have developed an eco-friendly and non-toxic germ-repellent technology by adding or embedding in specific germ repellent additives to plastic raw materials. This can largely reduce the adhesion of bacteria on the plastic surface and hence can achieve germ repellent. Different from biocides, the germ-repellent agent is designed to reduce the adhesion of the germs and form bio-membranes on plastic surface without the need of killing germs. The germ-repellent material has brought significant impacts to our daily life because it is an eco-friendly, anti-bacteria and non-toxic material. Evaluation standards are set for the effectiveness of germ repelling performance on surface of the materials with biocides, such as ASTM E2180 and ISO 22196, since the market not having a standard to evaluate the germ-repellent performance on adhering the material surface. Therefore, Ka Shui Group has developed a testing method to evaluate the germ-repellent efficacy on the surface of germ-repellent plastic products. This method mainly focuses on evaluating the germ-repellent effectiveness on flat plastic surface, and other microorganisms such as yeasts and fungi can also be tested by this method.
On the other hand, Ka Fung Industrial Technology (Huizhou) Co., Ltd. and Ka Shui Metal Manufacturing (Shenzhen) Co., Ltd. , subsidiaries of Ka Shui Group, both participated in drafting Guangdong Plastics Industry Association Standard "Testing Method of Germ-repellent Adhesion Ability for Plastic Products" (T/GDPIA 1-2019), in which Ka Fung Industrial Technology (Huizhou) Co., Ltd. was the main unit responsible for drafting. The testing method in this standard allows quantitative evaluation of the material's ability to repel bacteria adhering on the surface of the material and realizes the quantitative evaluation of germ-repellent efficacy for the germ-repellent plastic products. This standard has been officially implemented since September 29, 2019.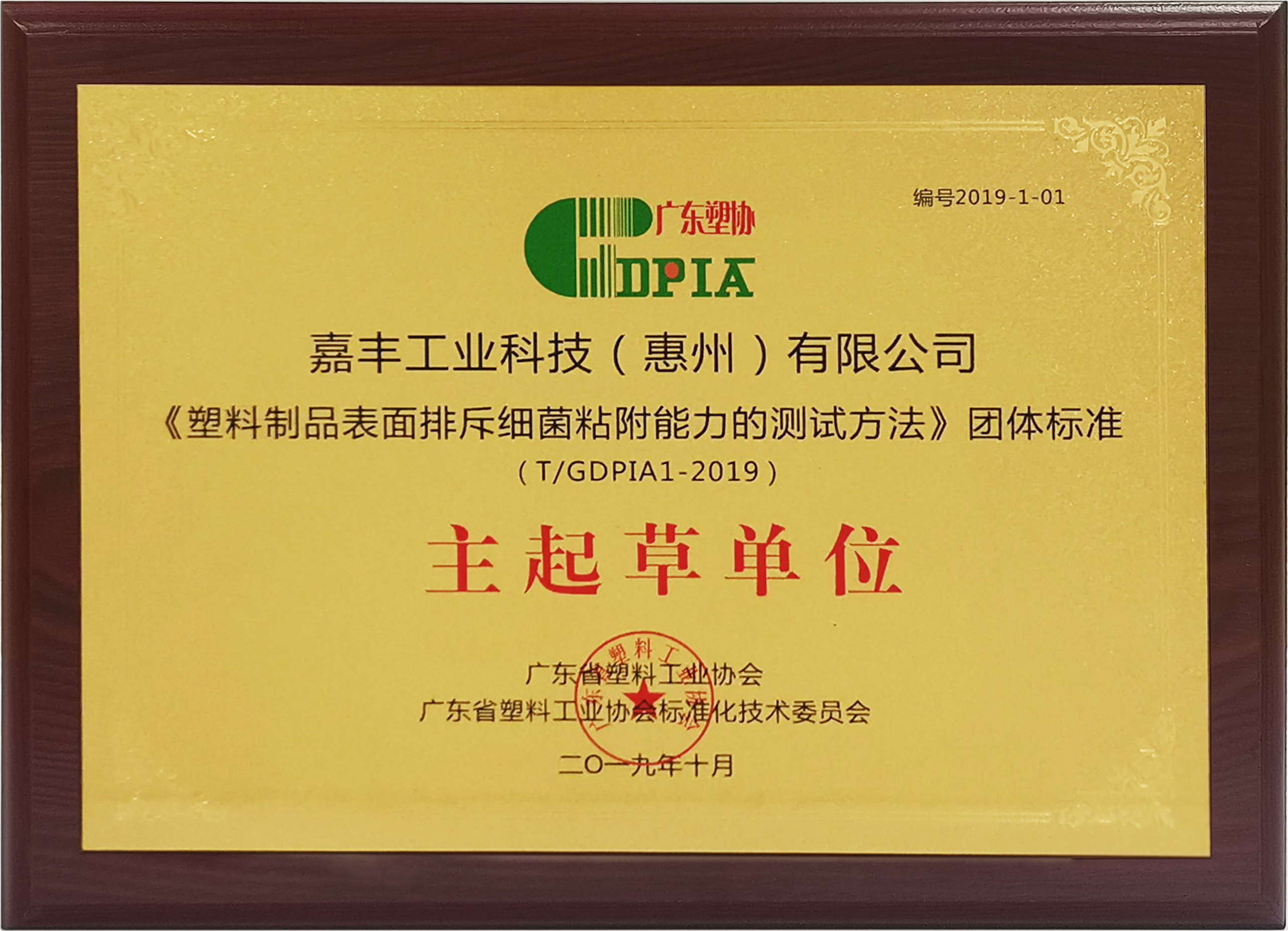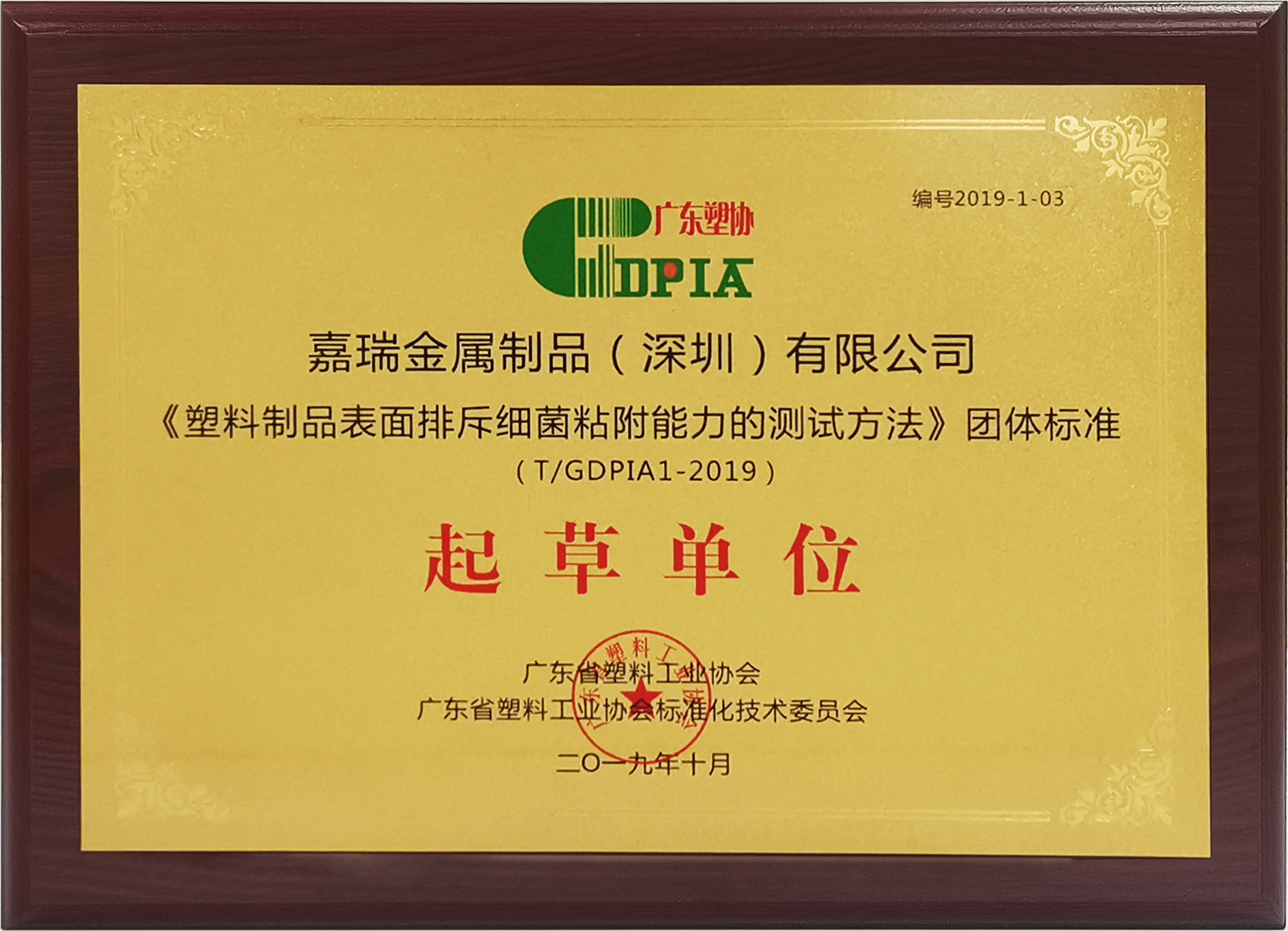 MicrobeFENCE® is a patented technology self-developed by Ka Shui, which can substantially repel bacteria on plastic surface. Different from traditional plastic using biocides, the germ-repellent plastic is non-germ killing, eco-friendly, non-toxic and has no side effect. At present, the testing standards related to the germ-repellent plastics have been formulated and implemented. It not only ensures the germ-repellent efficacy of the germ-repellent plastics can meet the requirements, but also help to promote the development of the germ-repellent plastics industry.
In addition, Ka Shui Metal Manufacturing (Shenzhen) Co., Ltd. recently participated in the formulation of "Testing Method of Measuring Energy Consumption of Die-casting Machine JB/T12554-2016", which has won the second prize of the Guangdong Mechanical Engineering Society Science and Technology Award and the second prize of the Guangdong Mechanical Industry Science and Technology Award respectively. The implementation of this standard can facilitate the die casting industry to achieve energy saving, emission reduction and industry upgrade as well as enhance competitiveness of products.
Ka Shui has proactively participated in formulating various industry standards for many years and implemented standardized production in manufacturing procedures in order to keep high standard of product quality. We will strive to promote the industry upgrade, innovative technology and sustainable growth. Our goal is to protect our environment and continue to promote green production in order to create a brighter future.